I remember my first encounter with bona fide heretics. About a year or two after I became a Christian, I found myself doing parking lot evangelism at a church event known as Judgment House. The idea was pretty simple – tour groups would go through the walk-through drama, which told a story of salvation, death, judgment, heaven, and hell. We'd fall in step with groups on the way out, asking what they thought of the drama, if they believed in Christ, and answering any questions they may have.
Well, at one point, we got a little bit of a rowdy group that came from a Oneness Pentecostal church in town. Oneness Pentecostals, just so you know, deny the triune nature of God, affirming that God is one person who expresses himself in three different ways. They immediately set about asking a series of questions about our churches conception of baptism, wondering what our pastor said when he baptized a believer, insisting that legitimate baptism occurs in Jesus name alone, and that the Trinitarian formulation (I baptize you in the name of the Father, and of the Son and of the Holy Spirit) was in error.
Being a bit of a rookie at doctrine myself, I remember fumbling around a bit, not really knowing what to believe, and saying something like "well, the really important thing is believing in Christ and making him Lord of your life." I don't think it went over too well.
How to Talk to a Heretic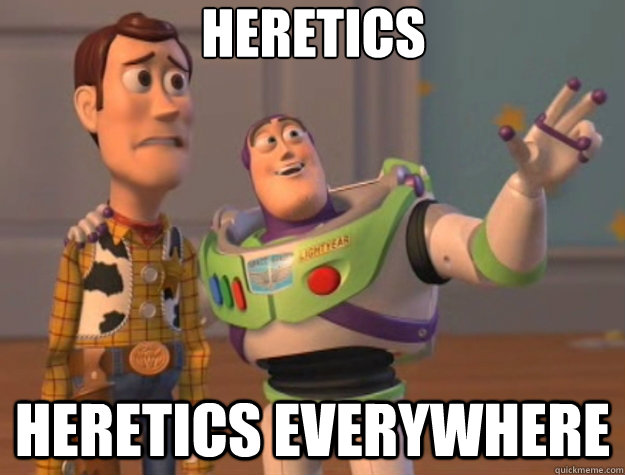 I think a lot of people fall into the same category I did when it comes to Christianity. They've just recently come to faith in Christ, they're still working through all the details, and they're ripping into Scripture with the zeal of a star-crossed lover. But the one point that the Church universal has all agreed on for a couple millennia is that Scripture is pretty complicated and it's really easy to come up with some pretty whacky doctrines. Throw in the cocktail of liberal and emerging Christianity, some pretty cunning non-believers out to undermine belief with the perennial question "did God really say?" and the popular "folk religion" that gets handed around in the United States, and you've got a veritable minefield out there for the new convert to Christianity. I'd be willing to wager that most new converts to Christianity go through a stage where they're affirming outright heresy.
I guess I should take a moment to clarify exactly what I'm talking about when I say heresy. It seems the term gets tossed about with a bit of imprecision, Calvinists are accusing Arminians of heresy, Arminians are throwing it right back at them, Baptists think that high-church folks are heretics, and the high-church folks are chanting anathemas at the bulk of evangelical Protestantism. Heresy, typically speaking, refers to a denial of the doctrines established by the
early Ecumenical Councils
(the councils held before the 800s A.D.). Most often it consists in a denial of one of the teachings of the
Nicene Creed
, though a few prominent heresies are denied elsewhere by the councils (
here's a helpful list
to work your way through the major heresies of Christianity).
Heresy, then, is more grave than simply disagreeing over Calvinism, speaking in tongues, or infant vs. believer's baptism. It usually blatantly contradicts Scripture, rather than parting ways over interpretation of Scripture (for example, the Oneness Pentecostals have to deal with Matthew 28:19). But usually it involves slipping into error unwittingly. The average heretic isn't out to contradict the clear teachings of Scripture. He's usually unaware of what it actually says.
Last week
, I criticized a particular school of thought that is gaining prominence in the church today – the belief in universalism – and ripped into a few of the underlying presuppositions behind it. I did so after having almost become an adherent myself, being a big fan of the writings of George MacDonald and Søren Kierkegaard, who are both overt universalists, as well as C.S. Lewis, who appears to have had a brush with the heresy over the course of his life. I also have a number of close universalist friends with whom I've had many conversations. I believe universalism to be a heresy. But I firmly believe that there will be universalists in heaven. It is Christ who saves, not a creed, and I think there are heretics who confess Jesus as Lord and believe that God raised him from the dead (per Romans 10:9).
Engaging with heresy in this day and age is not a matter of anathematizing someone. It's about meeting people where they're at in their own spiritual journey and helping them towards truth. Or, if you're one of the new believers who are trying to get their feet under them, it's about seeking wise counsel and godly mentors to avoid falling into error. In either case, correcting heresy, like Christianity itself, requires building relationships in love and charity in order to point people towards Christ.
Sound doctrine is essential for growing in knowledge of God. But we must keep in mind that its ultimate purpose is to bring someone to a closer relationship with God. Christianity is ultimately not about making creeds. It's about making disciples.
Posted by Nick Barden